Fire Department Personnel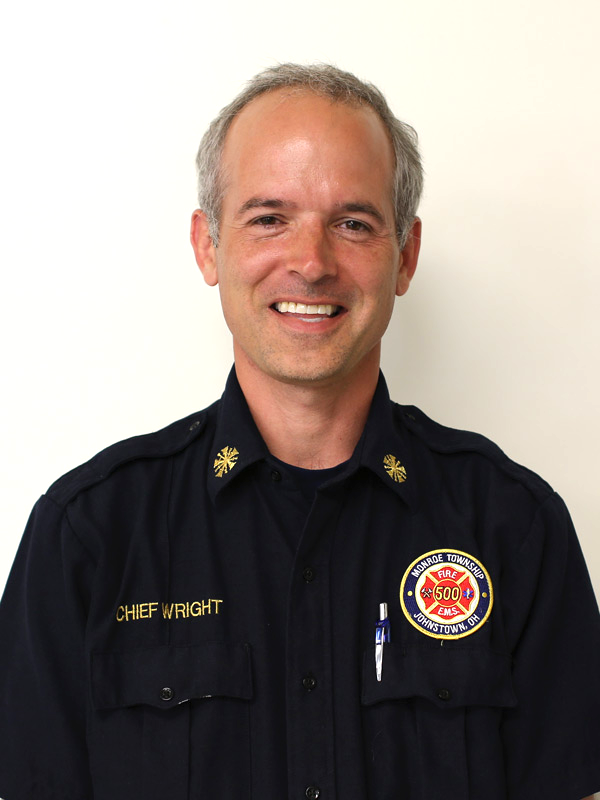 Chief Wright has been chief of the Monroe Township Fire Department since the year of its inception in 2000.  He holds a B.A. degree from Denison University, is a graduate of the Ohio Fire Executive program, and has completed numerous courses at the National Fire Academy.
Chief Wright is State of Ohio certified as a professional firefighter, paramedic, fire safety inspector, and fire instructor. He has also completed training to serve as a hazardous materials technician and arson investigator.
Chief Wright began his fire service career in 1989 at the Granville Fire Department where he also served as chief for four years. He also worked for the Mifflin Township Fire Department before being hired as Monroe Township's first fire chief.
Chief Wright is an active leader in the fire service. He serves as the vice-chairman of the Firefighter & Fire Safety Inspector Training Committee for the State of Ohio. He serves on the Licking County 911 Steering Committee and is a past president of the Licking County Fire Chiefs' Association. He also serves as a member of the National Fire Protection Association's Committee for Firefighter Professional Qualification.
Chief Wright resides in Monroe Township.
Chief Wright welcomes your comments and questions. He may be reached at 740-967-2976 or firechief@monroetownship.org